Today we pulled aside Earl Pilkington, a veteran of 40 years this October in media to answer some questions about his experience in radio.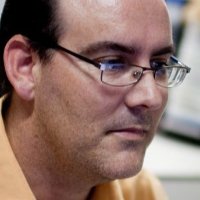 How did you get into radio?
I had a neighbour who was making ads in his home recording studio, and watched him one day and was fascinated by the reel-to-reel setup, him splicing tape, the mixing desk and more. Then I heard the ad he was working on, on-air on the local station later that week – that was my first introduction to it. And then shortly after that I heard 'The Goon Show' and it opened my mind to the possibilities of what radio could do.
What is your media experience?
I have worked in Newspapers, TV, Radio, PR, Radio (did I already say that?) and Theatre, it's been almost 40 years since I won a poster design competition and got started designing print ads, and I am back in radio again after a long break – spending the last 13 years at my current station.
The best mentor you ever had was?
A copywriter who worked with me in Bunbury, at (what was then) Macquarie Radio, Josh Langley. He sat with me and showed me how to really build a radio ad in a 30 second spot while I was working in production at the time. Josh actually inspired me to take the chance, and when I had the opportunity, get into copy.
Who is the best client you've ever had?
It's actually one I have now, he runs a bedding company here in Mandurah (Western Australia) and has basically let me do whatever takes my fancy. For example I have written zombie ads, end of the world ads, sleeping with your family spots, and more. He loves the creative spots and they make him stand out from the other bedding places who just do straight price and product commercials.
What was the strangest piece of copy you have ever had to write?
It was for a company who would come around and clean your house, in… let's say a state of undress! It was really hard to get away with what we did, and honestly I don't think that ad would make it on-air today.
Do you do any regular training or upskilling, and what is your favourite one?
I pay for my own up-skilling, from on-line courses to one on one training and mentoring. I regularly read a book on marketing and advertising about once ever 2 weeks. My favourite in the past 6 months has been the audiobook version of Tony Hertz 'The 7 Secrets of Creative Radio Advertising'. I can highly recommend it.
The best tool you've ever used related to script writing?
At one point it was Dragon Naturally Speaking 3. But that was when I was writing between 40-60 scripts per day. Now I do everything in Word, but my favourite tool above everybook, app and gadget is my headphones – both my AudioTechnica ATH-ANC500BT Over-Ear Wireless Noise Cancelling Headphones – you can tell I love them by their condition, and that I have replaced them with the same model. I use those for podcasts and general music. But also I wear NuHeara iQ Buds Max as much as I can as I have tinnitus and I swear on these to turn off the world noise around me (love that feature) and also to narrow my hearing focus – I cannot highly recommend these enough to people – and the best thing is – they were designed right here in Western Australia.
What is your 'most hated' radio cliché'?
I personally HATE conversational ads – why? It's my weakness. They just seem so formulaic, and beige. No matter what I do they just seem like dead air to me, even when I hear spots done by other people and agencies on other radio stations. They need to be more creative and not 'A' knows nothing, 'B' knows something, 'A' wants details, etc. BORING!
What is your opinion on the radio industry awards?
Personally – I think they are terrible – they favour either agencies only, or major networks who stack the judging panels with their staff, so station written spots don't get a fair shake. Now in fairness, I have been a judge for a couple of years for 2 other countries radio awards (I won't name them) – and the competition is fierce. And as an independent judge from outside the country, you can't tell who has done what – and I think that is the way to go. Australia should take note, as the ACRA's, in my opinion are a joke, especially amongst the Copywriters I know – who refuse to enter anything unless they work for the major networks.
Final question: Would you have recommended radio to a 16 year old you?
Yes I would have – and I would have told 'me' not to jump around to so many other mediums, but without that on the job training and experience, I wouldn't be who I am today – with the depth of knowledge about advertising in different mediums.