We have dropped todays usual review in favour of 3 very quick survey questions – given we get quite a few people visit every day of the working week, we thought we might take this opportunity to ask some questions about how we are going, etc… (The poll has finished – the results are in)
These are the results: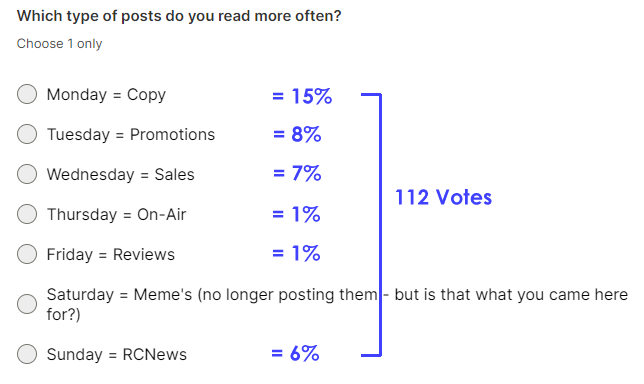 So there you go – a fast 5 day poll – and the results were encouraging – of the 178 people who viewed the page with the poll on it – 112 responded. That is an almost 63% response rate – thanks everyone!
We can see that the most popular pages (and this is backed up by page views) are the Monday COPY and Tuesday PROMOTIONS pages, followed by Wednesday SALES and the RCNews on Sunday.
And of course… our fish mascot now has a name (albeit a dad joke name) of ANDY!
Cheers and thanks to everyone who voted in the poll.